Company Story
A great custom home mirrors the homeowner's personality, down to even the most intricate details that make us who we are. Like large picture windows in the Great Room for the mother who loves to watch her children play in the front yard, or the spacious backyard featuring an Infinity Pool and tiki bar for the couple that hosts an annual Fourth of July BBQ every summer.
---
Your custom home is a reflection of who you are.
---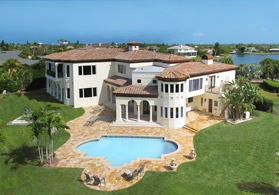 At Militano Construction we, along with our architectural designers, understand that we are not just building a home. We are building your home, because your custom home is not just a reflection of who you are, it is also a complement to the lifestyle you choose to live.
Since 1986, Militano Construction has earned its reputation for excellence in the custom home industry. It has been recognized for some of the finest homes in Melbourne and Central Florida for their timeless architecture and one-of-a-kind home design. This is why the name Militano has become synonymous with quality, trust and integrity.
Our president and founder, Kyle Militano, has built a stellar reputation in the construction industry for over 30 years and holds a Class A State General Contractor license. Kyle also received a Bachelor of Science degree in Construction Management & Engineering from FIU in Miami. Under his leadership, Militano Construction has won numerous Parade of Homes awards, including the "Grand Award", "Best Custom Home Award", along with numerous Platinum and Gold awards, and was selected as "The Premier Showcase Home".
Militano Construction specializes in building custom homes ranging from 2,500 sf to over 15,000 sf. Our list of repeat clients can attest to the fact that we understand their needs and deliver results to meet them. Our biggest seller is our hundreds of satisfied customers many of which recommend a friend or come back for their second or third home.
We take pride in offering architecturally correct, livable custom homes on time and within budget. Some of our previous homes include areas such as Lansing Island, Tortoise Island, Merritt Island, Viera, Suntree along with Vero Beach's most prestigious address, Windsor Polo Club.
It is our life's work to provide you with the most sophisticated and innovative design for your home, to ensure that it fulfills your highest expectations, and to become a place that your family will cherish for years to come.
To find out more information about how we can turn your dream home into a reality, contact us at (321) 779-9797.